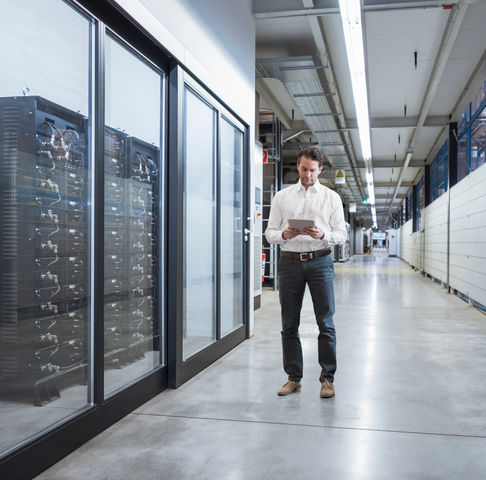 19 May 2021
Circle B Announces Strategic Partnership with DCspine
Newsletter
Stay informed about all developments
Circle B, a leading OCP solutions provider in the Netherlands, recently announced its strategic partnership with DCspine, a leading digital connectivity network provider with a well-established network of dark fiber to connect hybrid colocations and offer rapid and enhanced carrier neutral connectivity across the Benelux and Frankfurt in response to a strongly increasing need for compute and storage.
The partnership will enable customers to seamlessly connect their existing infrastructure to other datacenters right off the bat, over a software-defined network through DCspine's redundant dark fiber and Circle B-maincubes' datacenter facilities that focus on Open Compute. In addition, this will save the customers their time and effort to quickly connect to their datacenters seated at distant locations in the Netherlands, with low latency in the data transmissions. The connectivity convenience will also be more pronounced as the datacenters anywhere across the Netherlands can be provisioned across a single line allowing mirroring of servers.  This is possible as the companies together provide a framework through which the workload can be split across different datacenters which can be used to backup data in case any specific datacenter is obstructed.
"With this partnership, customers in the Benelux region and Frankfurt will benefit from easy access to efficient storage and compute resources based on Open Compute, as they will be able to access Circle B services at all DCspine datacenters. This is highly relevant to a growing number of customers that opt for infrastructure as a service instead of managing their own equipment, allowing them to focus on their core business." Bram de Schepper Account Director at Eurofiber - DCspine
"Adding DCspine's services to the Circle B portfolio strengthens our core proposition of scalability and flexibility." indicates Vinita Arora, sales manager at Circle B. "Circle B partnering with DCspine means that businesses have easy and flexible access from almost any datacenter in the Benelux region to our rack-scale Open Compute Project based infrastructure solutions that we provide from our first PoP at maincubes AMS01 in Amsterdam. This for example allows for customers running a dual-datacenter or easy expansion fully managed and supported by Circle B on-site datacenter engineers." Menno Kortekaas, CTO at Circle B.
With the rapid data generation by various business setups across different industries, there is a surging need to reduce the data complexity of these businesses which would no longer be sufficed by the traditional network architecture. The partnership between Circle B-maincubes and DCspine will foster a robust digital infrastructure as the partnership will leverage the benefit of OCP based datacenters being linked together through the region's leading interconnectivity provider.
About Circle B
As an innovative IT infrastructure solution provider, Circle B, part of Taurus Group offers Open Compute Project solutions for complex business requirements and their wholesale needs. The company provides wholesale OCP hardware infrastructure to help organizations either extend or transition to a more TCO efficient and sustainable server framework by delivering top-notch compute, storage and network solutions across Europe.
Its strategic alliance with maincubes, a leading datacenter operator, allows companies to have high availability, extensive security, and flexibility for their rising compute needs. The company also allows its customers to rent OCP based hardware by the rack for long term, so they can enjoy energy-efficient compute and storage on an ultra low latency and a high bandwidth network.
About DCspine
DCspine, part of Eurofiber Group, is an interconnection platform that offers automated and high bandwidth capacity connectivity between 75+ datacenters in the Netherlands, Belgium and Frankfurt. With its software-defined network it offers the possibility to create a new, resilient network between datacenters and to the cloud within hours. DCspine connects companies and organizations with the services they need, whenever they need them. And it can be seen as a "virtual meet-me room" for all connected datacenters, making connectivity between different datacenters as easy as connectivity within a single datacenter.
Do you want to know more about the partnership and how it can help your business with connectivity? Fill in the form below and we will get back to you! 
Newsletter
Stay informed about all developments