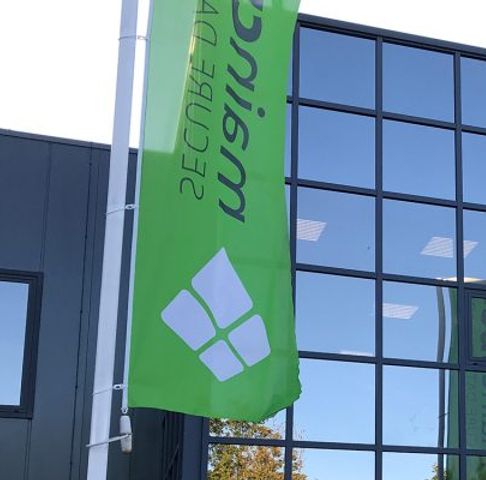 19 Feb 2021
DCspine connects maincubes on its 100Gbit network backbone
From now on, customers of maincubes and DCspine can easily use the combination of datacenter and connectivity services.
Newsletter
Stay informed about all developments
The AMS01 Datacenter of maincubes at Schiphol-Rijk is the first OCP Ready™ Datacenter in Continental Europe. Focused on OCP maincubes offers a unique proposition compared to other datacenters in the Netherlands and Europe. From now on, customers of maincubes and DCspine can easily use the combination of datacenter and connectivity services.
"As a result of the modernization of maincubes AMS01, DCspine has seen an increase in the demand for connections from maincubes. We are pleased with the expansion and expect to connect the first customers soon," indicates Jan Michiel Berkel, managing director of DCspine.
Joris te Lintelo, vice president of maincubes, adds: "maincubes is a highly connected datacenter. With its flexible and fast service, DCspine offers additional opportunities to our customers and prospects. DCspine allows our customers to go live faster and to adapt easier to changing IT infrastructure demand from the maincubes datacenter."
Customers using DCspine connections in maincubes will have the fiber cross connect (from DCspine to the customer rack) for the first 12 months free of charge and without a one-time installation fee. Contact DCspine now to take advantage of this opportunity.
maincubes
maincubes is a 100% European and independent datacenter operator with datacenters in Frankfurt and Amsterdam. maincubes highly values (technical) flexibility, data sovereignty, and sustainability. The AMS01 data center has completed a strong upgrade in recent years. The datacenter has been completely modernized and has a 4,400qm floor space with a maximum power density of 20 kW per rack. The datacenter is located in a strategic location and focuses on both national and international customers.
Similar vision
DCspine and maincubes have a very complementary vision. maincubes positions itself as a carrier neutral datacenter with a strong focus on Open Compute. This Open Compute principle fits seamlessly with the Open Networking principles that DCspine is based on. The principles of these movements have strong focus on the seamless interconnection between different parties, creating increased flexibility, efficiency, and scalability and allowing customers to achieve better performance and faster innovation.
OCP Ready
As an OCP Ready™  datacenter, maincubes AMS01 delivers OCP's enhanced flexibility and performance alongside existing advanced technology, higher power densities in kW, and improved energy efficiency. maincubes builds on its promise to drive the adoption of OCP and innovation for datacenters. The datacenter in Schiphol-Rijk is also the location of the European OCP Experience  Center, where CIOs, CTO's, ICT managers, and datacenter managers can experience for themselves the benefits of OCP principles for their organizations. In the Experience Center, they can also test and try out OCP solutions for their specific situations.
Newsletter
Stay informed about all developments